One lazy afternoon while watching tv show about Egypt it reminded me of the museum I visited and made me write some of those remembrances of my visit to Egypt-
When my daughter came up with one more holiday destination of the Eid holiday to Egypt I simply loved it, because Egypt
and mummification was an very interesting topic for me right from my school
Egypt is one of the most
populous
country
in Africa
and Middle East ,and the most populated place in the
world;
Egypt has one of the longest histories of any modern state.

Its monuments, such as the Glaza pyramid complex

and its Great Sphinx,

were constructed by its ancient civilization,

which was one of the most advanced of its time.
Exhibits had real mummies and also had close to 4000 artifacts in display. The artifacts tells us that ancient Egyptians worshiped hundreds of Gods and Goddesses, about kings and pharaohs, their lifestyle, mummification, burial practices which tells about their belief in after life.
.
I loved my stay especially in Cairo .
Cairo it smell beautiful.There is a certain desert and palm tree beauty to the smell of Egypt.Pretty much as simple as that,and the Egyptians themselves are very scent oriented ,it is very big business in Egypt
Shopping in Cairo can be great fun, the tiny shops with goodies including tourist souvenirs of alabaster pyramids and toy camels to traditional crafts of hand-blown glass, jewellery spices handmade leather shoes and traditional perfumes.
King of souks is Khan el-Khalili in Islamic Cairo, a world-famous attraction.
Egyptian museum is an excellent introduction about the ancient land.
The museum describes the mummification process in detail and also the daily life of ancient Egyptians
The highlight of all the exhibits was to go into a small dark doorway which led us down to where there was a display of recreation of a mummy, Myself, having studied history in college, thoroughly enjoyed the Egyptian museum.
Malls are not a huge part of Cairo's shopping scene, but The First Mall,have over 60 designer boutiques, including brands such as Prada, Dior and Yves St Laurent.
Egyptian cuisine
Egyptian cuisine combines many of the best traditions of African, Middle Eastern and Mediterranean cooking, and is both delicious and healthy.
Fruit, such as dates and olives, picked from the trees combine with vegetables, meats and fresh fish, aromatic herbs and spices to create colourful and flavoursome dishes.
Typically, a meal will start with soup made from pulses or beans, onions, tomatoes and leafy green vegetables with a large helping of garlic or spices to give them a kick. Soup is served with flatbreads like pitta (flatbread made with fenugreek seeds and maize flour)
A dish of chicken, lamb or veal that has
been slow-roasted with herbs or a fish stew accompanied by couscous or rice may follow.
Two of Egypt's most popular dishes are-
ful Medames and

koshari. It is made from spaghetti or macaroni, or sometimes rice, which is cooked together with pulses, garlic and tomatoes and topped with fried onions and herbs.
Falafel, the spicy mashed bean or chickpea and herb patty delicacy that is found throughout the Middle East can be found everywhere and makes makes a tasty snack. Throughout Egypt there are both large hotel restaurants and smaller specialist ones in the main towns.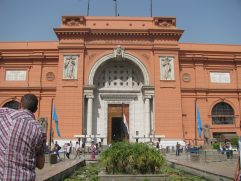 Cairo Museum
If you prefer international cuisine, head to the larger hotels in Cairo and its environs, which boast kitchens serving top-quality dishes. In the centre of Cairo there are cheap 'fast food' cafes selling traditional food in simple surroundings.
Desert is usually pastries filled with figs, dates and nuts, and drenched in honey, or a

mahallabiyaa

(rice pudding) made with rosewater and sprinkled with spice. Yoghurt and fruit, especially oranges, dates and figs, are often eaten as a dessert too.
MAMA
We had fun in which I treasured it to date..all came home with memories of ancient Egypt and wondering how the country is today....